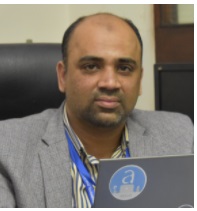 Assoc.Prof. MAZHAR JAVED AWAN, DEPARTMENT OF SOFTWARE ENGINEERING ,UNIVERSITY OF MANAGEMENT AND TECHNOLOGY LAHORE ,PAKISTAN
Research Area:
COMPUTER SCIENCE ( SPECIALIZIATION DATA SCIENCE , BIG DATA, INFORMATION RETREIVAL , DEEP LEARNING , NATURAL LANGUAGE PROCESSING , MEDICAL IMAGE ANALYTICS)
Research Experience:
Currently having research experience in medical image analysis through deep learning models, good in big data analytics in spark , data science machine learning models, image captioning using natural language processing
Keynote Speaker:
I talked in many conferences and workshops related to my field almost all national level universities.
I am keynote speaker in International Conference learning innovation (ICLI) in Indonesia which will be held on 15th September 2020.My topic of talk is "Data Science in Education".
http://icli.um.ac.id/keynote_speakers
Published Papers:
https://scholar.google.com.pk/citations?user=Ko_EmGEAAAAJ&hl=en
Detection of Schistosomiasis Factors Using Association Rule Mining
Domain Analysis of Information Extraction Techniques
Fake News Classification Bimodal using Convolutional Neural Network and Long Short-Term Memory
Acceleration of Knee MRI Cancellous bone Classification on Google Colaboratory using Convolutional Neural Network
Comparison and Evaluation of Information Retrieval Models
In this year lot of papers are in progress